Back to blog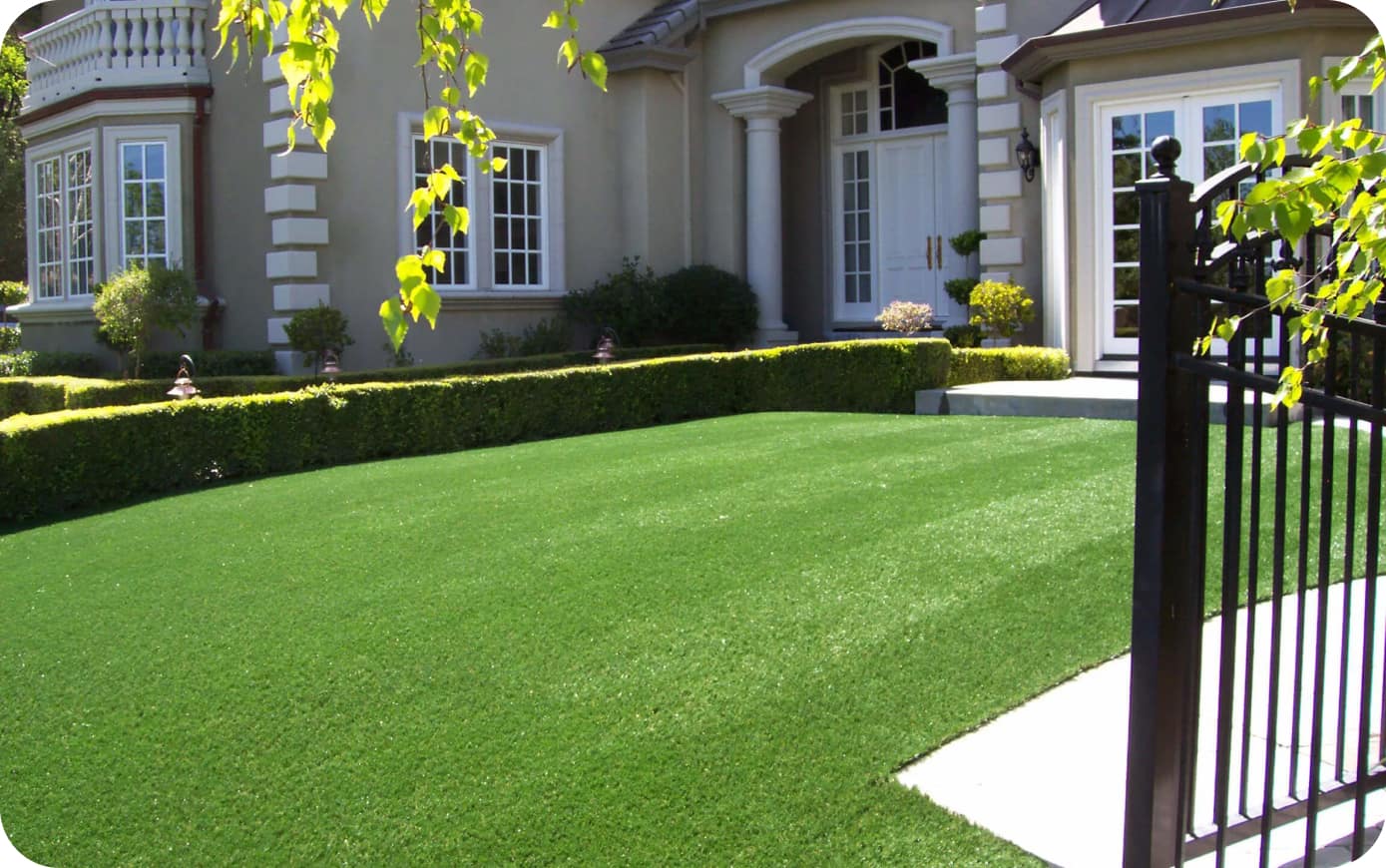 Why Artificial Turf for Your Front Lawn?
An artificial lawn brings the beauty and appeal of real grass to your property without all the maintenance, wasted water, or time spent trying to keep a lawn green in Los Angeles. A fake lawn is a perfect solution for homeowners and businesses tired of endless upkeep only to be disappointed with spotty coverage and yellowing. High-quality synthetic grass looks and feels surprisingly real. You need to see and feel it for yourself to believe what's possible for your artificial turf lawn.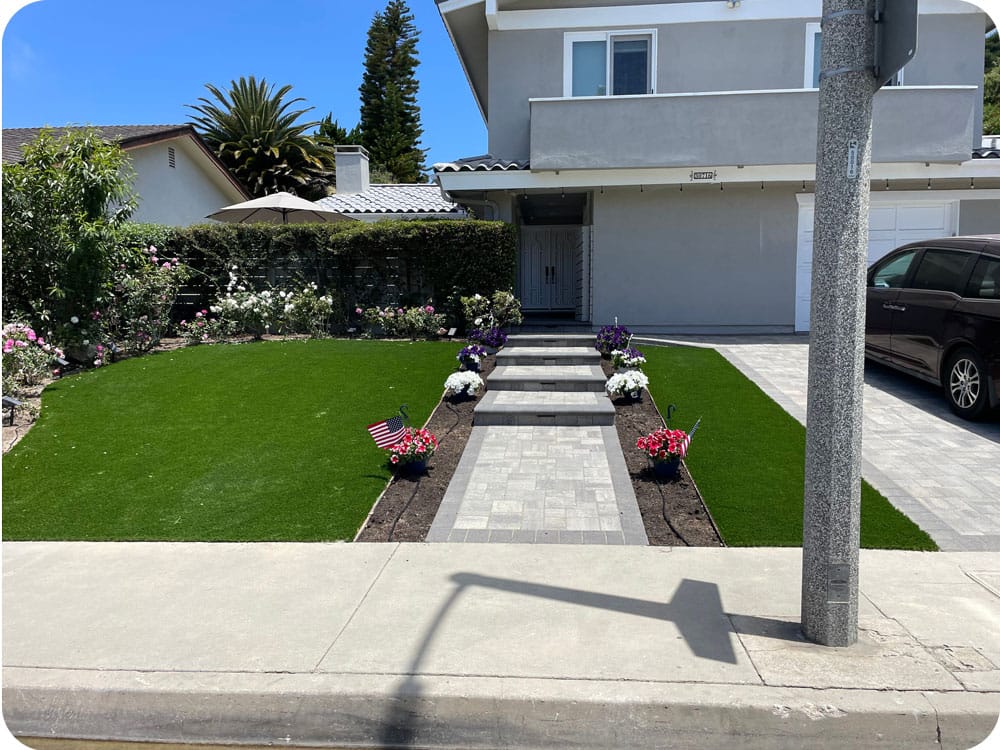 Applications
Commercial Applications
A synthetic lawn delivers instant curb appeal that's durable, even in a public setting. The gardener or landscaper can focus on tending and enhancing other natural features on the property, while the artificial lawn mostly cares for itself.
Looks amazing indoors and out
Perfect for compact spaces
Sets special areas apart while bringing the outdoors in: sunrooms, waiting area, putting greens, meditation room, or sporting space
Residential Applications
Those who think "fake lawn" when someone says artificial grass are not alone. But the truth is, fake grass for backyard, side, and front applications is now an alluring, cost-effective option for any home.
Pet-friendly turf allows you just to pick up dog poo just like you would in the park.
Eliminates typical backyard pests like fleas, ticks, and parasites that plague household pets and can get into the home.
A kid-friendly fake lawn creates inviting, cushiony playground spaces.
Instant putting greens. Synthetic turf installation is the perfect way to bring the putting greens to your own backyard.
Artificial Lawn Highlights / Perks
Besides looking great, choosing to install artificial grass offers homes and businesses tremendous perks that pay you back for the long life of an artificial turf lawn.
No mowing
No weeds
No watering
No aeration
No fertilizers or the harmful runoff they create
Sun-resistant, so it stays looking great
Pet-, kid-, and sports enthusiast friendly
Real vs Artificial Lawn comparison for homeowners:
With an artificial lawn, you get the same—or better—visual appeal than a real lawn with much less maintenance than a traditional lawn. The cost-effectiveness makes it very appealing for all kinds of applications where a real lawn wouldn't work. For older homeowners and those with other abilities, a fake lawn stops the constant struggle to pay others to help with lawn care. At a distance, neighbors just see what looks like a healthy lawn that's actually hard to achieve in Los Angeles.
Artificial Lawn Options We Recommend
Install artificial grass that offers the look, feel, and function you desire. Here are the ones we recommend.
Sunturf Putt Pro 65 for a high-quality, realistic look and permeability that's perfect for pets.
Sunturf Putting 45 is another high-quality, realistic choice with a high pile and a dense look.
Tiger Turf Multiplay is perfect for the fake lawn that sees a lot of action, football practices, tennis, soccer, and energetic child's play.
Tiger Turf SGS comes in a variety of looks and textures.
How much does it cost to install artificial lawn? / What goes into cost estimation?
The average cost per square foot for synthetic turf installation is $15 and $40 per square foot. For example, 200 square foot synthetic lawn might cost around $4300. The cost per square foot goes down as the area to be covered goes up. Other factors that contribute to price include the number of cuts, the amount of site prep needed, and the complexity of the design.
Our Recommended Brands:
Sunturf is a high-quality artificial turf lawn with a realistic look and max permeability, which further reduces maintenance.
Tigerturf is a high-quality choice perfect for lawns on which people run, roll, putt, serve, kick, and play.
SGS is a low-infill system with a tight textured grain for a clean ball roll. It makes the perfect field green and an amazing fake lawn.
What to consider before installing artificial lawn?
Artificial lawns have higher upfront costs but very low maintenance costs over the 15-20 years they last. This more than pays for that cost and delivers a more attractive lawn hard to achieve in Los Angeles. Those who want a beautiful lawn now but are worried about long-term maintenance should consider a fake lawn.
How to choose artificial turf for your front lawn
Consider the durability, versatility, and appearance. You want something that will look great for more than a decade, not a couple of years. The height of the pile, infill level and blade length can determine the feel, look, and function of an artificial turf lawn. An in-fill like silica sand or crumb rubber under the synthetic lawn prevents matting and improves comfort with each step.
Why us for artificial lawn installation
We encourage you to explore your options online and speak to us when you're ready to discuss your project. We're friendly artificial turf contractors, who happily work to help you choose the best options for you. We offer a one-year guarantee on labor and 15 years on materials.
FAQ
Can fake lawn reduce house value?
A high-quality, expertly installed lawn increases home value.
How long does artificial grass last?
15-20 years.
Do weeds grow through artificial lawn?
Weeds can't grow through properly installed turf, nor can common yard pests survive in it.
Is it hard to maintain an artificial lawn?
Not at all. You may need to rinse it down periodically. Fallen leaves can be raked out. If you have a dog that sheds a lot, you may need to brush the turf occasionally. This sounds different, but it's much less resource, time- or labor-intensive than maintaining a lawn.
Can you lay an artificial lawn yourself?
You can. But like many DIY projects, they make it look easy to install artificial grass. It isn't. You're unlikely to get the lawn you want if you DIY.
How often should artificial lawns be replaced?
Every 15-20 years, similar to repaving a driveway.
Is it hard to keep the artificial lawn clean?
No. Other than picking up dog poo immediately, you'll rarely have to think about cleaning it. Occasional rain will do most of the work.
How long does it take to put an artificial lawn down?
Depending on the size of the project, it could take 3-5 days.
What do you need to put artificial lawns down?
Planning and design, turf selection, yard leveling, and in-filling are some of the things you'll need to put turf down. If you do it yourself, you need turf cutters, shovels, utility knives, joining tape, tape measure, compacting planks, pins, among other supplies and tools.